Category Archives:
Sparkling Wine
Make 2015 Sparkle!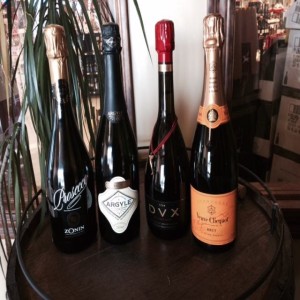 You may call it Champagne, Cava, Prosecco, or simply Sparkling Wine—we have a variety of bubbles for you to select to make your New Year sparkle! I recommend Zonin Prosecco($14.99), Argyle Oregon Brut($24.99), DVX by Mumm($49.99) or Veuve Clicquot Brut($56.99). To make a special 2016 cocktail, mix your bubbly with fruit nectars,  flavored vodkas,  Solerno Blood Orange or Limoncello liqueurs!  Here's to cheating, stealing, fighting, and drinking! May you cheat death, steal a woman's heart, fight for a brother and drink with me! Remember the New Year begins at Village West Discount Liquors.
New at VWDL:
We are happy to announce that we now carry your favorite Holy-Field Wines: Tailgate Red, Tailgate White, Corky's Barrel, Over the Rainbow, and Seyval!
Tastings, Appearances, Etc:
Holiday Hours: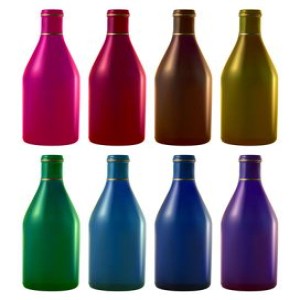 We recommend trying new and interesting wines to mix things up. Here's a simple guide to use to discover a new favorite wine!
If you like this, try this:
Riesling: Gazelas Vinho Verde
Made in Portugal; light bodied; slightly fizzy
Chardonnay: McManis Family Viognier
Made in California; velvety and creamy; flavors of pear, and peach.
Sauvignon Blanc: Laurenz und Sophie Singing Gruner Veltliner.
Austrian; dry, acidic, medium bodied, flavors and aromas of green bean, white pepper and citrus
Moscato: Alexander Valley 'Gewurz' Gewurztraminer.
Made in California; rich and full bodied; flavors and aromas of peaches, rose, lychee, and spices
Shiraz: Domaine Barville Chateauneuf du Pape
Spicy; tannic French wine blend of up to 13 grape varieties. Notes of dark fruit and vanilla.
Cabernet Sauvignon: Bruna Grimaldi Barolo Camilla
Italian; complex; full bodied with lots of tannins and flavors of cinnamon, truffle and licorice;tastes better with aging.
Red Blends: Marques Caceres Red Rioja
Spanish red blend typically made with the Tempranillo grape; bursting with aromas and flavors of berries, plum, vanilla, herbs and leather.
Pinot Noir: Lamadrid Bonarda
Deep ruby purple wine from Argentina with mint, red cherry, plum and chocolate flavors.